This romantic comedy reunites "Sleepless in Seattle(めぐり逢えたら)"
director Nora Ephron, and stars Meg Ryan and Tom Hanks.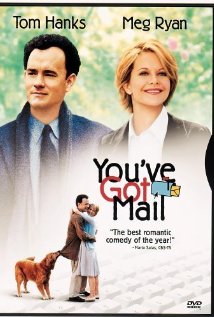 Joe (Tom Hanks) is the head of a gigantic bookstore chain.
Kathleen(Meg Ryan) is the owner of a small children's bookstore shop.
Joe is putting Kathleen out of business by opening a chain store
close to her little shop. He seems like an arrogant person.
When he is talking to Kathleen on the internet,
we see another side of him.
He is not arrogant we think he is.
In person, Kathleen hates him for what he is doing,
on the internet, she falls in love with him.
Their reaction to each other in person is completely different
from when they talk on line.
You don't fall in love with a person because of who they are, do you?
にほんブログ村